Synchronous Servo Motors HBR 16 - 26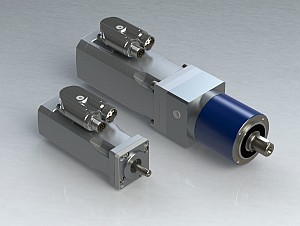 compact, modern, flange size down to 40mm
angled connector, 300° rotatable
cost-efficient design
singleturn encoder (BiSS Interface)
multiturn encoder (BiSS Interface) (HBR 26 only)
optional with resolver
parking brake and planetary gear as an option
New cost-optimized motor series, extending the existing motor power range to smaller flange sizes and shorter motor length.
A singleturn angle sensor with a fast digital interface (BiSS) and low reluctance effects ensures excellent control properties.
Even surfaces in combination with a high protection class enable operation in clean enviroments. Special surface coatings as well as further customizing on request.
Series

Datasheet

With gear

Drawing

[DXF, 3D]

Voltage
[V]
Rated speed
up to [rpm]

Rated torque
up to [Nm]
Flangesize
[mm x mm]
HBR 16
in preparation
-
24, 48
8.500
0,185
40 x 40
HBR 22
-
24, 48
7.000
0,40
45 x 45
HBR 26
-
24, 48
5.500
0,61
55 x 55
Suitable Servo Controller
Data sheet DSV1030:

Product page DSV1030 [forward]