Synchronous Servo Motors HBR 37 - 63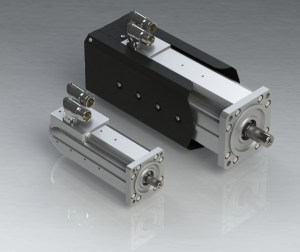 high output power, forced ventilation as an option
high dynamics, low reluctance effects
compact, modern, efficient
angled connectors, 300° rotatable
with resolver, singleturn or multiturn encoder (BiSS Interface)
parking brake and planetary gear as an option
The high power motor series HBR 37 – 63 gain greatest efficiencies and therefore highest power out of a compact and appealing housing. An outstanding torque development behavior and lowest reluctance effects ensuring excellent control properties. High performance magnetic components enables remarkable peak torque values, and in combination with low mass inertia high dynamics can be achieved. The motors are available in three flange sizes with an output power of up to 3kW, and beyond 6kW using forced ventilation.
The offered angle encoder options adapt the control performance and allow operation with various control devices.
Special surface coatings as well as further customizing on request.
Series

Datasheet

With gear

Drawing

[DXF, 3D]

Voltage
[V]
Rated speed
up to [rpm] (*)

Rated torque
up to [Nm] (*)
Flangesize
[mm x mm]
HBR 37
in preparation
-
320, 560
4.500
4,1
80 x 80
HBR 48
in preparation
-
320, 560
4.000
8,5
100 x 100
HBR 63
in preparation
-
320, 560
3.500
17,5
120 x 120
(*)
Values with optional forced ventilation.