Application report nutrunner technology
Specialised motors in automated fastening applications
New production techniques and shorter cycles require higher performance in all industrial branches. They also increase demands on electrical motors. Some applications only become possible with the availability of right suited motor. The hour has arrived for system automation suppliers and drive engineers.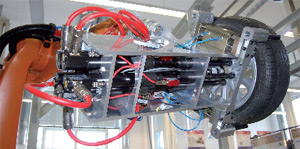 The two medium-sized companies ENGEL Elektroantriebe GmbH in Walluf and EST Elektronische Schraub- und Steuerungstechnologie GmbH & Co. KG in Oberkochen have successfully been working together for more than a decade. EST is a system house for modern information and control technologies. With its 25 employees EST is known for particularly innovative system solutions in the area of automation technology. ENGEL Elektroantriebe, with more than 100 employees is the motor and drives specialist of the two partners. ENGEL develops and produces high-quality electric drive systems. Customer specific drives is the specialisation of ENGEL Elektroantriebe GmbH making up approximately 85% of the production volume.
The three-phase synchronous motors
To meet with the demands of mass production such as with the automobile industry, EST uses ENGEL´s new HLM series three-phase synchronous motors within their torque wrench products. These have been specially optimised to meet the demands for high power density, larger torque and higher rotational speed. The HLM motors were designed specifically for these applications. Image 1 shows a fully automated, robot controlled wheel assembly, synchronised to the production line. The wheel assembly system consists of five EST torque wrenches with integrated three-phase synchronous motors of the HLM series.
These new three-phase synchronous motors (image 2) are characterized by their slim design, capable to reach a high peak torque of up to 22 Nm out of small enclosure diameters. Maximum speeds of up to 30000 rpm are possible. There are five standard motor sizes available, starting with HLM 1250 up to the largest HLM43135. They each have a three-phase stator winding with a sinusoidal EMF curve; depending on the size either with 4 or 6 poles. The motors are maintenance free. In the high-performance HLM series, the patented manufacturing process using the concentrated winding technique and by using high quality neodymium iron boron magnetic material, yielded to a significant increase of efficiency in comparison to the BSM series, to a reduction of no-load losses and to a significant reduction of reluctance effects.
The optimised production process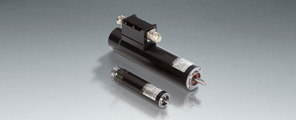 To meet the ever increasing demands for accuracy and quality with a view to manufacturing processes, ENGEL has introduced a new CNC technology-driven age of winding and stator manufacturing. A 5-axis CNC controlled needle winding machine and a welding machine has been in use since 2008. This winding technology allows longer stators for the HLM series without changing the construction lengths of the motors. The simple winding structure and the improved utilization of the active material also lead to a reduction of system costs. At the same time the new winding technology allows a much simpler motor production, which is reflected in the cost of the motors. The new HLM series combines maximum dynamics with an increase in torque of up to 35 %.

Graduate Engineer Heinz Peter Koch
ENGEL Elektroantriebe GmbH, Walluf
und Erwin Heinrich
EST Elektronische Schraub und Steuerungstechnologie GmbH & Co. KG, Oberkochen


News
SPS 2023
ENGEL Elektroantriebe exhibits from November 14th to 16th 2023 in Nuremberg.
Hall 3 / Booth 450
We are looking forward to meet you!

[more]
Social commitment
As ENGEL Elektroantriebe we are aware of our social responsibility and, amongst others, support the German Cancer Aid.